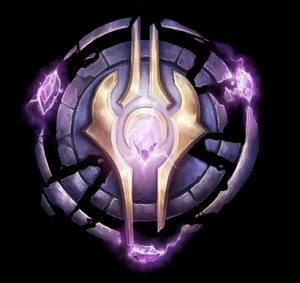 Well I did like I said I would. I rerolled a new Draenei Paladin. He looks pretty sweet too! I didn't realize how much I would like the Draenei male model, but they have neat looking cast animations, neat swing motions, and the run is not to bad once you get used to it. I still think the Draenei female has the smoothest run though. Whatever Blizz did with them, they need to do it with every other race in the game.
The new member of the clan is named Draydis. I wanted that name, and I got it! I was pleasantly suprised about that. I already regret the haircut and facial hair choices, but thats ok. I just have to go the barber now! Hehe.
So how is leveling? Is it different now then it was before? Short answer is yes. Long answer is different is not better, but it might not be worse either. From level 1-4, there is very little to do. You up Seal of Righteousness and auto attack. Then you get Devotion Aura, which is one button that you never have to push again for a long long time. The next thing you get is Blessing of Might. Up that and your Seal and let the auto attacks do their thing. Once you get Judgement of Light, things get a little more interactive. You get to drop that every 10 seconds. It also applies a debuff to the mob so you get healed. Sweet considering you are generally getting healed for as much as they hit. A little later, will will also get Judgement of Wisdom, which should help with mana if needed.
You also get your first Bubble, which is now a 50% damage reduction, and a 50% attack speed reduction. This is a little different to get accustomed to. I used to hit my bubble and bandage or heal. Now, bandaging is not an option, since there is damage coming through that will interrupt you. Healing is an option. However, I have just been using it when I get a third add to help with damage mitigation. I pop it early if I think I might might need to. This is a bit different from how I normally play. With the regular Bubble, I usually wait until I am at 10%-20% health, pop the Bubble, bandage, heal, and then back to fighting. The new, early Bubble is best used when things have to potential to go bad. It is also on a 5 minute cooldown, so don't be afraid to use it.
I have also found that I no longer wait to use Lay on Hands in a dire emergency. It is on a fairly short cooldown now, so if I need it, I use it. I have found myself low on health on a few fights, so I just use after the fight to get myself to full, and then I press on. The chances that I am going to get in big trouble in the next 20 minutes are pretty low, so I don't mind using it as an uber health pot on a 20 minute cooldown.
I also just got my Resurrection spell. It still has that new spell smell since I haven't even used it yet.
All in all, this is way easier then anything I have done before. I am right around 4 hours played and I am at level 12. Not bad. It helps that I know where everything is, but still. No deaths, mobs die fairly fast, a mana pool that is perpetually full. Whats not to like? The only downside is that there seems to be less to do since you dont need to reseal all the time. At this stage you are basically auto attacking.
Something else that helps with leveling is I knowing how to gear your Ret Paladin. For anyone who is new to the Ret Paladin scene, here is what to look for in gear at this level range.
Strength/AP->Stamina->Agility->Int
Try to stack as much strength as possible. Strength gives you 2 points of attack power (AP)before any other modifiers. You want your melee hits to hurt really, really bad, so more attack power is a good a thing. Stacking straight AP works well too. Keep this in mind as well; if you have to choose between two similar pieces of gear and one has strength and one has AP, just multiply the strength by two, and pick the gear with the higher number. At this level there is really no advantage to having Strength over AP. You aren't going to be specing into Divine Strength right now, and the chances that you are going to have Blessing of Kings on you for any length of time is pretty slim. Also, while you are leveling, stamina will be better then agility. The more stamina you have, the better your chances of surviving a tough situation. That means less corpse runs, which means less wasted time.
With that in mind, agility is next on the shopping list. This will give you some defensive stats (armor, dodge, and maybe even parry), as well as crit. Unfortunately, agility does not give Paladins AP, unlike Rogues, Hunters, and Druids. At this point, crit is not a really big deal. Yeah, it will be nice once you get a little higher up in level and your melee swing crits and procs SoComm, SoComm crits, then you hit Crusader Strike, it crits and procs SoComm again, and SoComm crits again. That is when a mob explodes. If it doesn't, you are probably fighting a raid boss and you probably just pulled aggro. When things like those big SoComm proc and crit strings happen, I get a little excited. But again, don't worry about crit right now. It will come along on its own. I think base crit is close to 5%. You get early talents that bump you up by an additional 8%, giving you about 13% before any gear is factored in. So really, there is no need to focus on crit since 1 in 7.6 swings should crit. That isn't what I would call reliable, but it ain't bad either.
The last area for stats is intellect. I am having absolutly no issues with a base mana pool at level 12. I don't think I have stopped to drink one time yet, which is awesome. I feel Huntery in that I don't ever need to stop for anything other then self heals. I haven't even used a bandage yet because I have more mana then I know what to do with. So really, this stat is one that is a "nice to have." More mana is never a bad thing, but do not go out of your way for it. I think Ret Paladins have finally, thankfully, moved passed the days of 3 kills, drink, 3 kills, drink, 3 kills, drink. This will save a lot of money in water and food.
Finally, I would like to throw in a word about talents. At this low of a level, there are not a lot of options for talents. You have Divine Strength, Parry, and Benediction to choose from. I went with Benediction for 3 points. I don't see a point in Parry at this stage since everything is dying so fast, and I expect that trend to continue. Divine Strength seems like a bit of a waste too since you don't have enough strength to see a real benefit from this. Mana efficiency, however, is always a good thing, and this reduces the cost of all of your instant spells. The only spell you should be using at this point with a cast time is Holy Light. I think that this talent option will help with leveling speed more then the other options. Downtime is fastest way to increase your /played, so efficiency, efficiency, efficiency.